Things that make me happy.
Because I was sick earlier this year, I feel like I finally really got into the swing of things when summer started. I unfortunately haven't been able to travel, which I do miss, but there's been so many things at home that have made me just as happy.
Desk
While I've been working from home for the entirety of the pandemic, I've never actually worked on my desk setup. I've never even owned a desk - when I was a child, I did my homework on the kitchen table. When I was in college, I worked at school since I needed the computers for my 3d work. When I moved out of my parents' house to be closer to work, I didn't buy a desk since all my work was done in the office and I gamed primarily on my Nintendo Switch.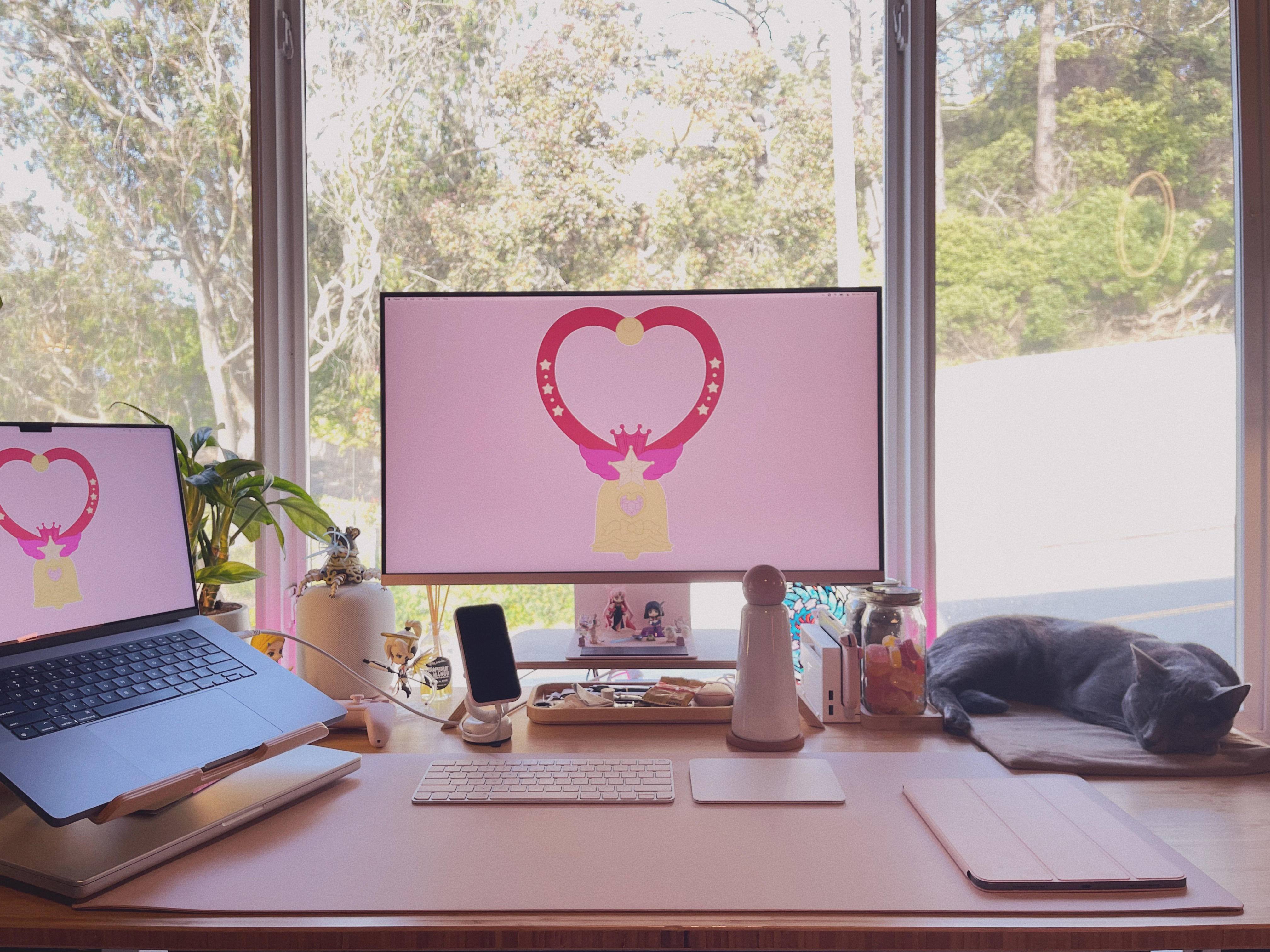 I wanted a setup that was both aesthetically pleasing and functional. I have both a personal laptop and a work laptop, so I have to be able to switch between the two easily. I ended up purchasing the Samsung M8 Smart Monitor in pink, and it's worked out perfectly for me. I use a single USB-C cable to switch between my laptops, and use the mini-HDMI cable to connect to my Nintendo Switch for gaming.
I wasn't originally intending to have such a pink setup, but I guess I couldn't help but be drawn to my favorite color. I purchased the limited edition pink deskmat from Maisy Leigh x Grovemade, and I've been loving it. I also used one of my old Sailor Moon-inspired illustrations as my desktop wallpaper.
I also had to make room for the best part of my desk setup - my cat Alfie. His cat tree is to the right of my desk, so I also set up a heat mat on that side of my desk so we can hang out while I work. I rearranged my whole desk for him (my laptop was originally on the right side) so I hope he appreciates it!
Peripherals
I've been eyeing custom mechanical keyboards for what feels like years, but I finally bit the bullet and built my own. I definitely did the most research I've ever done for a purchase. Most of the parts were purchased from KBDfans.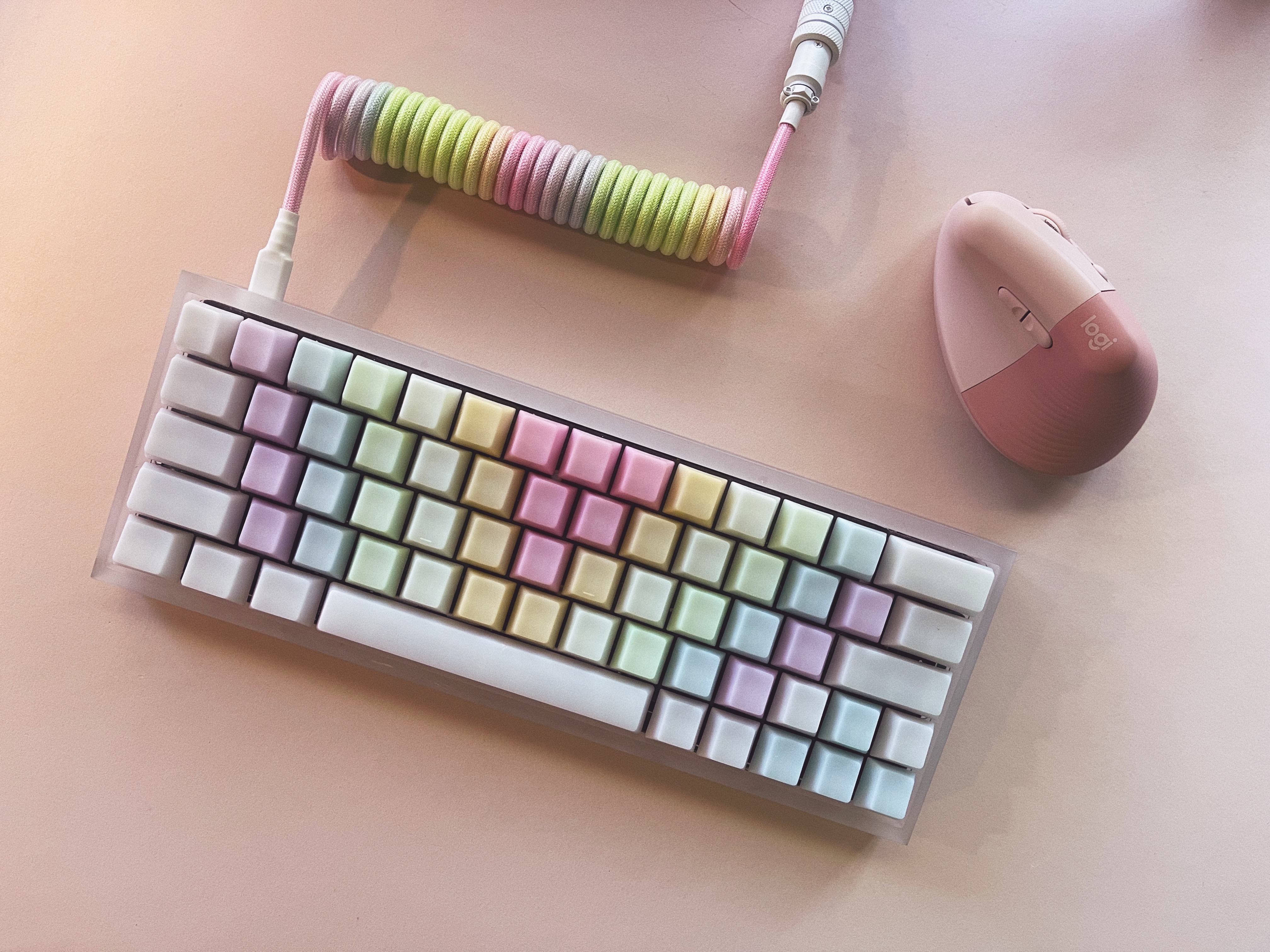 Putting together the keyboard was challenging. Luckily, I didn't have to solder, but still, I bent quite a few switch pins. I love the muted sound of the switches and I'm proud of how it turned out.
I also recently purchased a Logitech Lift Vertical Ergonomic Mouse in pink and it's been a game-changer. I'm used to using my Magic Trackpad but instantly fell in love with using an ergonomic mouse. It also matches my desk setup!
Steam Deck
I was fortunate enough to get my hands on a Steam Deck last month. I'd been waiting for my order window for almost a year, and almost missed it because of a preorder error. Luckily we contacted customer service and they sent us one out almost immediately!
I've never owned a gaming PC (all my computers have been MacBooks) and most of my consoles have been from Nintendo, so being able to play PC and Steam games on a portable computer has been incredible. I also installed an emulator so that I'm able to play some of my favorite older games such as Fire Emblem: Path of Radiance.
Loved ones
Spending time with the people I love has been the highlight of this year. Even though I had more time in years past, I think that this year I've been really intentional with my time with my friends and family.
The cat
Last but certainly not least, I've been spending a lot of time with my cat, Alfie. He's been in my life since last September, but I feel like he's always been with me now. He just turned 1 years old in May, and he's still quite a handful. Basically all of my photos are of him these days. He's ridiculous and I love him so much. I'm working on him to make him an Adventure Cat, and so far it's been working out pretty well.
Happy
Don't really have a conclusion other than this: I'm grateful for the good times I've had so far this year, and I'm looking forward to the rest of it. ✨